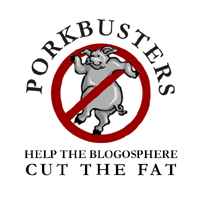 C.T.
What is an Omnibus? An Omnibus spending bill sets the budget for each department of the government all at once. Keep in mind it is just one possible outcome for the budgeting process. Every year Congress must pass individual bills for appropriations funding each department of the government that receives its stipend from discretionary spending. Ex. One bill for the D.O.D, one for the D.O.E., etc. When Congress cannot produce these individual appropriation bills they will group them together into one Omnibus spending bill.
Problem with the Omnibus spending bills is that they are inherently full of pork barrel spending and are often thousands of pages long. Well,the typical American may ask, "How does this effect me?" I am glad you asked.
This years Omnibus spending bill is 3,417 pages long, contains 11,331 earmarks costing the American taxpayer about $20 billion. According to Brian M. Riedi, The Heritage Foundation's lead budget analyst, the President and Democratic congressional leaders promised to cut the number of earmarks to half of what they were in 2005.

Earlier this year, President Bush and Democratic congressional leaders pledged to cut the number of pork projects in half--from the 2005 peak of 13,492 to 6,746

.

[1]
C.T.
Much of the problem concerning the Omnibull..er..Omnibus is the earmarks. In the past the government grants would be distributed to state and local governments through formulas or to specific groups through an in-place competitive application process.
[1]
Well, not anymore. Congress now, through some mutated form of the legislative process, is the final word on who receives the government grant by earmarking it for a specific group. This is where the "pork barrel" spending comes in. This means that each congressional member has his own personal account with which he/she can fund their own pet projects, or through the lobbying community auction off their grant money to highest bidder. The return for the congressional member is in the form of campaign contributions or a "public donation." As Mr. Riedi points out earmarks are outside of governmental accountability due to the fact that they are not subject to any application process. They very rarely get audited and the result is they are misappropriated.

Here are some fine examples of earmarks set out in the Omnibus spending bill.

[2]




-$100 million for security at the upcoming political conventions even though it is widely known that presidential elections happen every four years.





-$602 million for crop disaster assistance and livestock assistance despite the fact that farmers had record incomes last year

.




-The Charles Rangel "Monument to Me." ($1.95 million)(I love this one)

-Rodent control in Alaska. ($113,000)




-Olive fruit fly research in France. ($213,000)




-A river walk in Massachusetts.($1 million) (Isn't this what local taxes are for?)




-The Advanced Technology Program, which provides research grants to mostly Fortune 500 companies including IBM, 3M, and General Electric, received $65 million in the omnibus.(i.e corporate welfare Oh, and Congress de-authorized this earlier in the year.)




-$20 million increase for the National Endowment of the Arts




-$3.7 million in non-competitive grants to the AFL-CIO




-$16 million for a new House office building although the House already has four office buildings and the Capitol Visitors Center has not been completed.




Mr. Riedi has this to say about reforming earmarks.


Eliminating earmarks would not reduce FY 2008 grant spending, but it would ensure that grants are distributed by merit rather than politics and would stifle the enormous appetite for federal largess. Worthy projects should have no trouble securing funding based on merit; only the unworthy projects would lose funding

.

[1]


C.T.
I disagree. Rather than reforming the process, phase it out all together. Some of the problems that cause Congress to use this Omnibus is partisan disagreement, party infighting, and Congress's inability to form a budget in a timely manner. Since there seems to be no auditing process in place then there is no way to actually estimate the amount of money being spent uselessly. Do not allow Congress the ability to create earmarks to the budget after the fact. Make them do their jobs and form the budget in a timely manner. If their is still a necessity for such a program as governmental grants, bring back the competitive application process with a timeline stipulation. If the application is not filed by a certain date, then it will not be considered for that fiscal year's budget. $20 billion dollars may not be much when to Congress when you consider the size of the overall budget of the United States. But, if this program exists and accounts for this much abuse, then how many other ones are there without any auditing system in place. This may not solve all of America's woes but it sure as hell is a start. Let's start making the President and Congress, in particular, accountable for their spending habits. I'm not dipping into their bank accounts. Buying my friends and family gifts for Christmas with their money. So why should they do that to us?

Two great articles from the Heritage Foundation which I drew from for this post. I highly suggest reading them.

[1]

Omnibus Earmarks Out: President Bush Should Cancel Congress's Pork Spending



[2]

Omnibusted: The Top 10 Worst Problems with the Omnibus

Spending Bill